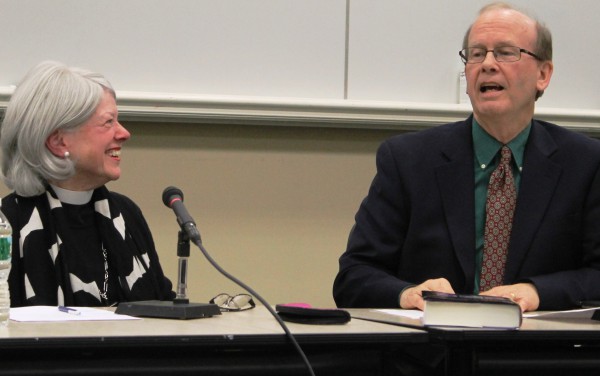 The Rev. Fleming Rutledge has published a major new study of the Cross—one that will rival, in its own way, John Stott's The Cross of Christ (380 pp., 1986) and Raymond Brown's 2-volume The Death of the Messiah (1664 pp., 1994), Rutledge's 620-page book, released by Eerdmans September 4, is titled The Crucifixion: Understanding the Death of Jesus Christ.
On Wednesday night, December 9, the peripatetic preacher and Episcopal priest presented the message of her new book to an eager audience at St. Mary's Seminary & University. The event was hosted by St. Mary's Ecumenical Institute of Theology.
Rutledge began to write the volume 20 years ago when she was struck by the absence of the preaching of the Cross in the churches she visited. "Our pastor says preaching the Cross is not a good tool for growing congregations," she quoted one lay person as saying. "No, it is not a good tool," she responded, intimating that preaching the Cross should not be a tool at all. Preaching the Cross is of the essence of Christianity.
Why?
...