See Graduation 2022 Livestreamed

Graduation for St. Mary's Seminary School of Theology and St. Mary's Ecumenical Institute took place on Thursday, May 12, 2022. See the recording on Vimeo.
---
Spirit, Body, Word: An Evening of Sacramental Poetry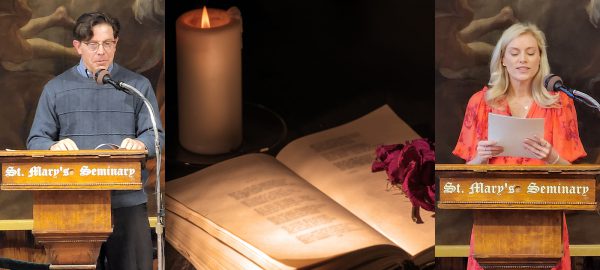 St. Mary's welcomed Brian Volck and Laura Reece Hogan who read selected poems while offering short accounts of the poetry's theological origins and spiritual inspirations. View the complete recording at https://vimeo.com/693585636.
---
---
Who We Are

The Seminary, founded in Baltimore in 1791, by the Society of Saint Sulpice, strives, as its primary purpose, to provide outstanding spiritual, human, intellectual and pastoral preparation for candidates for the Roman Catholic Priesthood. Following in the Sulpician Seminary tradition, it seeks to do this as a formational community grounded in Jesus Christ and primarily directed toward diocesan priestly service in the Church.

The Ecumenical Institute encourages people of all denominations to explore theological studies in a serious, open-minded, and supportive environment.

Opened in 1996, the Center offers an array of programs for priests and bishops. There are conferences for the newly ordained, new pastors, priests engaged in pastoral and special ministries, and senior priests. The Center has also developed a series of conferences which addresses needs of bishops and their co-workers in the task of diocesan administration. Additionally the Center hosts groups for academic, pastoral and ecumenical conferences.