November 2021
Members of the St. Mary's community have an impact far beyond our Baltimore location. These are some of the latest examples.
Drs. Mabry and Smith at Villanova Conference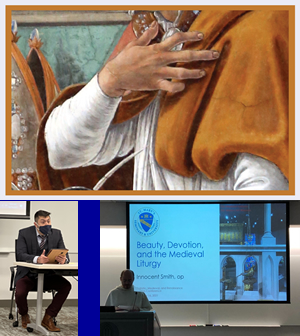 Drs. Eric Mabry and Innocent Smith, O.P. were presenters at Villanova University's 46th International Patristic, Medieval, and Renaissance Conference (PMR). The conference was held October 15-17, 2021 on the theme "Cum Dilatasti Cor Meum: Knowledge, Affect, and the Dilation of the Heart."
Fr. Innocent presented on "Beauty, Devotion, and the Medieval Liturgy" during the session on Beauty and Emotion in Christian Material Culture.
Dr. Eric Mabry presented on "Paratum cor meum, Deus: Christological Affectivity in Medieval Exegesis of the Psalms" during a session on Medieval Exegesis. He also chaired the session on the Theology of Bonaventure.
Fr. Burton Offers Parish Series at the Cathedral of Mary Our Queen
Fr. William Burton, O.F.M., S.T.D. is presenting an adult formation series on "Paul & the Early Church" at the Cathedral of Mary Our Queen, Charles Street, Baltimore. The 4-part series takes place on the first four Tuesday evenings of November.
St. Mary's Music Director with the Basilica's Schola Cantorum
St. Mary's own music director, Samuel Rowe, directed the Schola Cantorum at First Vespers of All Saints at the Baltimore Basilica on Sunday, October 31. See fb.me/e/KvakrABu.
Collaborating and Connecting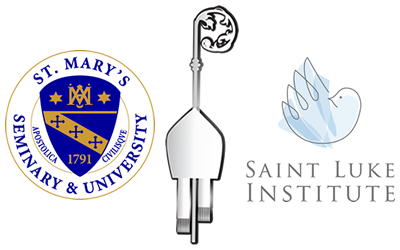 On November 15, St. Mary's Seminary & University collaborated with Saint Luke Institute to host an evening for Bishops during their November meeting in Baltimore. St. Mary's President Rector, Rev. Phillip Brown, P.S.S. and Saint Luke's CEO, Rev. David Songy, O.F.M. Cap. gave brief presentations during the dinner. St. Mary's was also represented by six seminarians.
St. Mary's already partners with Saint Luke Institute on a number of initiatives including candidate assessments, counseling, and human formation. Several Saint Luke staff members have done workshops in pastoral skills for seminarians and resourcing for faculty and formators.
Dr. Gorman at the Society of Biblical Literature
Dr. Michael Gorman, Raymond E. Brown Professor of Biblical Studies and Theology, attended the Society of Biblical Literature annual meeting in San Antonio, TX from November 20-23. He was a respondent in a session devoted to Pauline Theology, specifically the meaning of justice in the letters of Paul.