Spiritual Formation from Storia Studio on Vimeo.
The basic principle of spiritual formation is "to live in intimate and unceasing union with God the Father through his Son, Jesus Christ, in the Holy Spirit" (PPF107). The spirituality of a priestly way of life is characterized by prayer, celibate chastity, mature obedience, simplicity of life and social justice in imitation of Jesus Christ. "For every priest his spiritual formation is the core which unifies and gives life to his being priest and his acting as a priest" (PDV, no. 45).
Prayer
A priest is first called to be and then sent as a man of prayer and a leader of prayer. "A life of steady prayer first and foremost centered in the sacraments, especially the Eucharist, the Liturgy of the Hours, and the liturgical cycles, but also in prayer that is personal and devotional" is necessary for true spiritual formation. (cf. PPF 26). In order to prepare himself for the priestly life of prayer for and with the Church each day, St. Mary's requires each seminarian to:
1. attend and actively participate in the common liturgical life of the seminary community, especially the daily celebration of the Eucharist and the Liturgy of the Hours;
2. establish and maintain a daily practice of personal prayer, with emphasis on the practice of daily meditation upon the Scriptures;
3. cultivate a spirituality that integrates insights gained from one's study of philosophy, the humanities, Scripture and the Catholic theological tradition;
4. cultivate appropriate habits of reflection, silence and solitude.
5. attend the seminary's special liturgical celebrations of the institution of Lectors and Acolytes, the admission to Candidacy for ordination as Deacons and Priests, and the seminary ordination of Deacons;
6. prayerfully make the opening community retreat, and the monthly days of recollection;
7. celebrate the Sacrament of Penance at least monthly;
8. participate in class-level group theological reflection sessions;
9. meet at least monthly with his Spiritual Director;
10. experience various expressions of the seminary's communal devotional life, such as Eucharistic and Marian devotions and Stations of the Cross, and to familiarize himself with other devotional practices;
11. attend opportunities for ecumenical and interfaith prayer, including the annual Holocaust Remembrance Service and visits to synagogues and non-Catholic Christian congregations.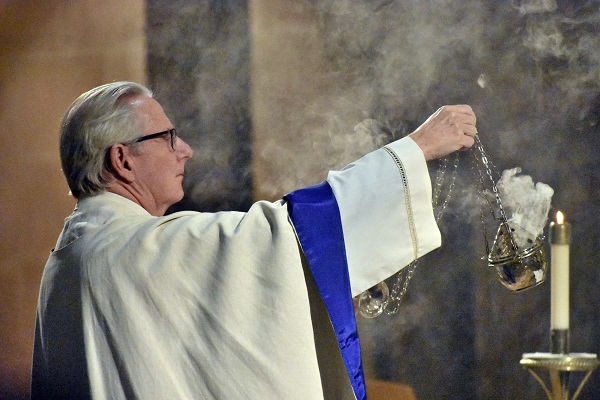 Celibate Chastity
A priestly way of life is also characterized by celibate chastity. "Spiritual formation in celibacy cultivates the evangelical motivations for embracing this commitment and way of life: the undivided love of the Lord, the spousal love for the Church, apostolic availability, and the witness to God's promises and kingdom." (PDV no. 50). In order to prepare himself for a mature commitment to celibacy in imitation of Christ, St. Mary's requires each seminarian to:
1. live a celibate commitment;
2. demonstrate an integrated personal and theological understanding of the Church's teaching about sexuality, intimacy, mature love and celibate chastity;
3. converse and relate in a mature and chaste manner with faculty, staff, fellow seminarians and all others with whom he comes in contact;
4. develop professional and pastoral relationships and personal friendships marked by prudence, temperance, mutuality, and inclusivity;
5. refrain from inappropriate or exclusive relationships;
6. refrain from inappropriate physical expressions of intimacy;
7. refrain from the use of sexually explicit materials or entertainment.
Obedience
Priesthood is a form of service to the Church which is characterized by trust, dialogue, participation in decision making, and a spirit of obedience. "The obedience of those in spiritual formation for the priesthood must be characterized by the willingness to hear God who speaks through his Word and through his Church. It is also the surrender of one's own will for the sake of the larger mission" (PPF 110). To prepare himself to fulfill his promise of obedience, St. Mary's requires each seminarian to:
1. practice obedience in a spirit of trust by adhering to the values of the Gospel, the teachings of the Church.
2. demonstrate respect for the seminary's Rule of Life and to adhere to decisions made by those in authority at the seminary, particularly the Rector, the Vice Rector, the Academic Dean and the Faculty;
3. demonstrate respect for ecclesiastical authority, especially his diocesan Bishop and Vocation Director;
4. demonstrate in word and action loyalty to the universal Church, the local Church of his diocese, and the particular Church of the seminary community;
5. establish trusting relationships with the faculty, and especially his assigned mentor and freely chosen spiritual director;
6. approach the evaluation process in a spirit of trust and confidence and participate fully in it;
7. engage in healthy dialogue and consensus building by participating in class meetings and the various councils and committees which serve the life of the seminary community;
8. abide by the seminary's policies, procedures and guidelines.
Simplicity of Life/Social Justice
A priestly way of life is also characterized by simplicity of life and a commitment to work for justice and peace. "Spiritual formation for simplicity of life and stewardship flows directly from having the mind of Jesus. Freed from excessive concern about possessions, priests and seminarians, and particularly religious, are able to serve in an unencumbered way" (PPF 110). In order to prepare himself to be a credible witness of the gospel by the example of his life, to be committed to the poor and to be a responsible steward of the Church's material resources, St. Mary's requires each seminarian to:
1. be self-disciplined, self-sacrificing, and generous to others;
2. practice honesty and integrity in his academic performance, especially in his representation and use of research sources;
3. be an effective steward of his personal resources, in the context of a simple lifestyle appropriate to diocesan priesthood;
4. practice stewardship, respect, and care for all of creation, especially in daily life at the seminary;
5. become involved with causes which promote justice and peace and address life issues in our society;
6. become familiar with justice, peace and life issues in society from grass roots efforts to complex policy issues, in accord with the Catholic ethical tradition;
7. abide by the seminary's policies, procedures and regulations.