Mission
The mission statement of St. Mary's Seminary & University:
America's first Catholic seminary, St. Mary's Seminary & University continues its tradition of excellence since 1791 in preparing candidates for the Roman Catholic diocesan priesthood. Adhering to the Sulpician Tradition of priestly formation, taking place within a single community of formators and seminarians sharing one rule of life with strong mentoring relationships, we facilitate personal integration of the human, spiritual, intellectual, and pastoral dimensions necessary for authentic priestly witness and service in the image of Jesus Christ.
Through its Center for Continuing Formation and Ecumenical Institute, St. Mary's also provides for advanced theological study, the ongoing formation of those in ministry, and a center of preparation for missionary discipleship.
See the St. Mary's current strategic plan.
History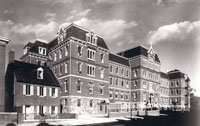 Founded in 1791,H St. Mary's Seminary & University in Baltimore is the first Catholic seminary established in the United States. For over two hundred years, St. Mary's has been owned and operated by the Sulpician Fathers, a community of diocesan priests dedicated to the formation of priests.
In 1805, St. Mary's was chartered as a civil university in Maryland, and in 1822, Pope Pius VII established the seminary the country's first ecclesiastical (pontifical) faculty with the right to grant degrees in the name of the Holy See. The seminary continues to offer the pontifical STB and STL degrees for all qualified students.
St. Mary's on Paca Street
The original St. Mary's Seminary was first established in Baltimore on Paca Street. Its historic neo-gothic chapel designed by Maximilian Godefroy remains at the original site. It is open for visitors and is adjacent to the Mother Seton House where St. Elizabeth Ann Seton lived while in Baltimore.

St. Mary's Roland Park
In 1929, St. Mary's Seminary moved to its present location at Roland Park in Baltimore. Designed by Maginnis and Walsh of Boston, the seminary's classic entrance and massive facade are a recognized landmark in the city. Inside the main doors stands the marble statue of Mary known as the Sedes Sapientiae, Our Lady Seat of Wisdom, patroness of the seminary. Further on is the Main Chapel, designed in marble and oak, with its Casavant pipe organ and stained glass windows from Paris. It is a majestic, elegant, and quiet place at the very heart and center of St. Mary's.
In addition to the seminary program, St. Mary's also offers two additional programs of interest to seminarians.
The Ecumenical Institute of Theology
The Ecumenical Institute of Theology is St. Mary's evening graduate program offering studies in theology for persons of all religious traditions. Here St. Mary's seminarians are able to take occasional evening courses and meet lay men and women studying theology to serve their various churches.
Center For Continuing Formation Conference Center
The Center for Continuing Formation is a thirty room conference center on campus which provides facilities for all of St. Mary's continuing education and formation programs. Many St. Mary's alumni return to the Center for sabbatical programs and other continuing education experiences.
St. Mary's Seminary and University is literally the birthplace of seminary formation in the United States. Embodying the values of the Sulpician tradition, St. Mary's offers the very best programs possible in preparing the next generation of diocesan priests.
All programs at St. Mary's are fully accredited by the Middle States Commission on Higher Education and by the Association of Theological Schools in the United States and Canada. St. Mary's is also a member of the Maryland Independent College and University Association.