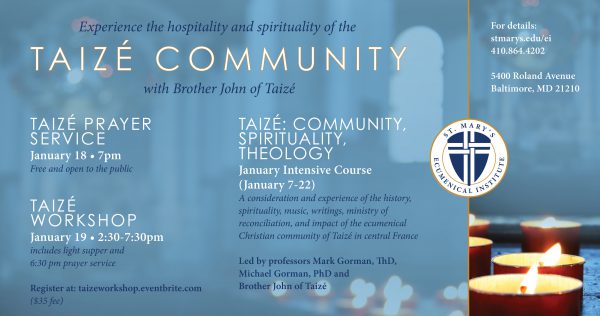 St. Mary's Ecumenical Institute is pleased to welcome Brother John of Taizé in January 2019. We invite you to join us for one of several opportunities to learn about the hospitality and spirituality of the Taize community from Brother John.
Taizé Prayer Service | January 18, 7 pm
Free and open to the public
Taizé Workshop | January 19, 2:30 – 7:30 pm
Registration required ($35, includes light dinner)
Taizé: Community, Spirituality Theology | January 7-22
January Intensive Course
Led by professors Mark Gorman, ThD, Michael Gorman, PhD, & Brother John of Taizé.
For more information, contact Rebecca Hancock (410.864.4202).