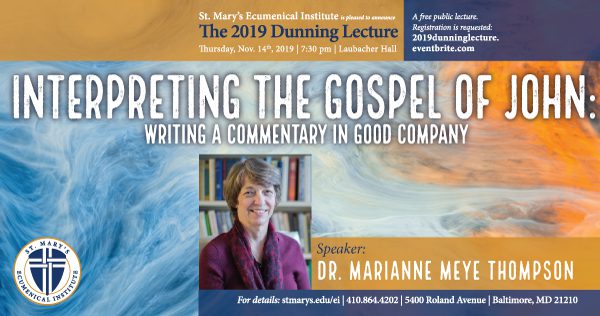 This year's Dunning Lecture, "Interpreting the Gospel of John: Writing a Commentary in Good Company" will be given by Dr. Marianne Meye Thompson on Thursday, November 14, 7:30 pm in Laubacher Hall.
Dr. Marianne Meye Thompson is the George Eldon Ladd Professor of New Testament and former School of Theology dean at Fuller Theological Seminary. Thompson has been instrumental in developing advanced-level interdisciplinary courses that integrate biblical interpretation with other disciplines of the theological curriculum. She is author of John: A Commentary (New Testament Library, 2015), 1–3 John (IVP New Testament Commentary, 2011), A Commentary on Colossians and Philemon (The Two Horizons Commentary, 2005), The God of the Gospel of John (2001), and The Promise of the Father (2000), and coauthor of Introducing the New Testament (2001). She has also published numerous articles and reviews in scholarly journals.
A member of the Studiorum Novi Testamenti Societas, Thomspon has participated in various projects at the Center of Theological Inquiry, including "The Scripture Project" and "The Identity of Jesus," as well as consultations on "Children in the Scriptures," sponsored by Valparaiso Project on Childhood Studies, Theology, and Ethics, and "Teaching the Bible in the 21st Century," at the Wabash Center for Teaching and Learning. Adept at communicating Christian biblical scholarship to a popular audience, she was featured on the PBS series, Genesis. Thomspon has served on various editorial boards, including Theology Today and New Testament Studies.

Thomspon is an ordained minister of the Presbyterian Church (USA).
This event is free and open to the public. Registration is requested.
Download a flyer for the event here, or contact Rebecca Hancock (410.864.4202) for more information.