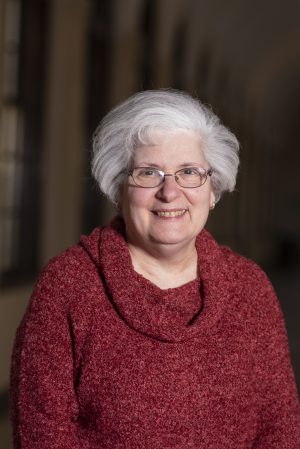 After 27 years of service, Dr. Pat Fosarelli will enter a new phase come July 1. She will step down from her role as Associate Dean of Instruction, but continue half time with St. Mary's Ecumenical Institute in her role as Director of the Master of Arts in Christian Ministries. We are thankful for all that she has done for St. Mary's over the years, and glad that she will be continuing to serve with us.
Dr. Fosarelli reflected on the upcoming transition, "I have been working at St. Mary's—in some capacity—since 1995, and I have been a dean since 2006. As of June 30, I will be stepping down from my full-time position as Associate Dean of Instruction but will continue part-time as Director of the MACM (and its associated certificates). This is my decision because a) there are other things that I still want to do and b) the EI has two fine deans who will remain.
I will continue to act as an advisor, be active in the D.Min. program, oversee the MACM and associated certificates, and (of course) teach. Although I will not be around every day, I will be available when students are most likely here.
I count coming to the EI as a student in the fall of 1992 as one of the most important decisions that I made in my life, one that changed my life for the better. I always hope that it will do the same for every student and faculty member who joins this very unique community of learners."