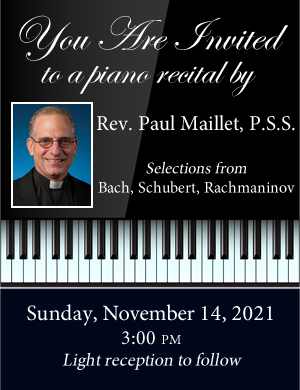 ST. MARY'S SEMINARY & UNIVERSITY
invites you to a piano recital by
Rev. Paul Maillet, P.S.S.
Bach: Selected Chorale Preludes
Schubert: Sonata in A Major, D. 664
Rachmaninov: Moments Musicaux, Op. 16
Sunday, November 14, 2021 • 3:00 pm
St. Mary's Chapel at St. Mary's Seminary & University
Light reception to follow
Free and open to the public, but we encourage you to RSVP: rsvp@stmarys.edu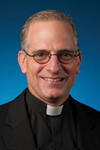 Before discerning a call to the priesthood, Paul Maillet received critical acclaim and international recognition for his performances with orchestra and in recital. He studied under full scholarship with Cécile Genhart at the Eastman School of Music. An alumnus of the Peabody Conservatory, he studied with Leon Fleisher and received the prestigious Artist's Diploma.
"Maillet remains a fluent technician who boasts a particularly lovely quality of sound and who excels in subtlety of voicing. Most of all he has something to say, feelings to express and thoughts to communicate….Maillet's playing is about his spirit, about his beliefs, about his experience of life…"
The Boston Globe
"One of the best of the many brilliant students who have emerged from Leon Fleisher's studio. He's a pianist with an abundance of technique, a beautiful tone, and a deep streak of poetry."
The Baltimore Sun
...