This fall, St. Mary's Ecumenical Institute is holding monthly Theology Town Hall meetings. You can view recordings of past town halls on the EI's YouTube channel. For more information on upcoming Theology Town Halls, please contact Dr. Rebecca Hancock.
UPCOMING THEOLOGY TOWN HALLS
"Leading Leaders in a Time of Pandemic"
Wednesday, October 21, 12:00 p.m.
"Outsider Within"
Wednesday, November 18, 12:30 p.m.
The Rt. Rev. Carl Walter Wright
Bishop Suffragan for Armed Forces &
Federal Ministries of the Episcopal Church
Rev. Vanessa Lovelace, Ph.D.
Vice President for Academic Affairs & Dean
Lancaster Theological Seminary
The Rt. Rev. Carl Wright is Bishop Suffragan for Armed Forces and Federal Ministry for the Episcopal Church. Next semester, he will be one of the presenters for the EI's Leading Leaders course in the DMin program. His theology town hall focuses on the topic, "Leading Leaders in a Time of Pandemic."
Dr. Lovelace is Associate Professor of Hebrew Bible/Old Testament and Dean and Vice President of Lancaster Theological Seminary, a school with which the EI has a partnership providing a pathway to the MDiv. Her teaching and research interests include interpreting biblical texts using literary criticism and theory of gender and nation through a womanist lens. The November Theology Town Hall will focus on her current research project, a monograph titled Outsider Within: A Womanist Reading of Hebrew Bible Narratives as the Politics of Belonging.
PREVIOUS THEOLOGY TOWN HALLS
"Might from the Margins"
Rev. Dennis R. Edwards, Ph.D.
Associate Professor of New Testament, North Park Theological Seminary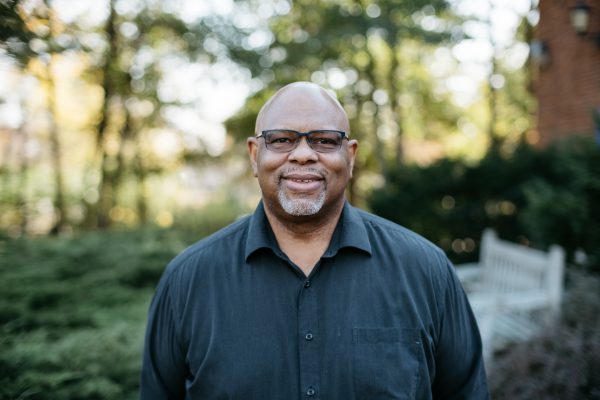 Dr. Edwards is professor of New Testament and Biblical Greek at North Park Theological Seminary and also teaches in the EI's DMin program. He holds an MDiv from Trinity Evangelical Divinity School, and a PhD in Biblical Studies from The Catholic University of America. He has been in urban ministry for three decades, and has started churches in Brooklyn, NY and Washington DC. In the September Theology Town Hall, Dr. Edwards discusses one of his newest books, Might from the Margins: The Gospel's Power to Turn the Tables on Injustice