Five-Day Workshop Designed Exclusively for New Pastors and Parish Life Coordinators
November 6-11, 2022
Scenes from 2021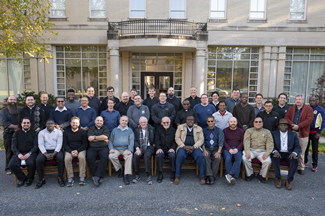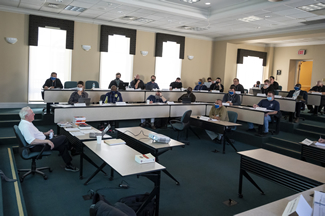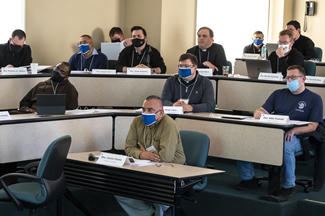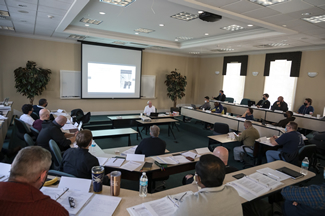 The Program
The New Pastors Program will be held November 6-11, 2022 at the Center for Continuing Formation on St. Mary's Campus. This conference is for newly minted pastors or for priests who will soon be appointed to the pastorate. Parish Life Coordinators are also invited to attend.
Please click here to download a registration form.
Sunday, November 6
Arrival by between 4:00 – 5:00 PM
Welcome and Opening Dinner
Night Prayer
Monday, November 7
The Pastor as a Person
Embracing Readiness as Pastor
Assessing Our Hopes and Challenges in the Pastorate: a Round Table
Stress in Ministry
Challenges in the New Evangelization: What Pastors Can Do About It
Tuesday, November 8
The Catholic Community and Pastoral Leadership
Parish Finances and Budget I
Parish Finances and Budget II
Parish Staffs and Personnel Management
Free Evening
Wednesday, November 9
The Pastor as Steward
Discipleship, Pastoral Councils and Parish Staffs
A Fresh Look at Stewardship
Male and Female He Created Them; Collaborating with Women in the Parish
A Night at the Donnelly Lounge
Thursday, November 10
The Pastor as Administrator
The Pastor, Civil Law and Pastoral Administration
The Canonical Role of the Pastor: An Overview
A Diocesan General Counsel Looks at the Minefields of Pastoring
Friday, November 11
The Pastor as Priest
Peter: A Transformed Shepherd
Reflection on the Great Commission and Sending Forth Prayer
Evaluations
Lunch and Dismissal
Please click here to download a registration form.
(As a result of the COVID-19 pandemic, those who are not vaccinated are required to wear a mask while inside the building. Please check back at a later time for any updates and details regarding our policy regarding COVID-19.)