December 2021
Members of the St. Mary's community have an impact far beyond our Baltimore location. These are some of the latest examples.
St. Mary's Community Supports Mother Seton Academy in Baltimore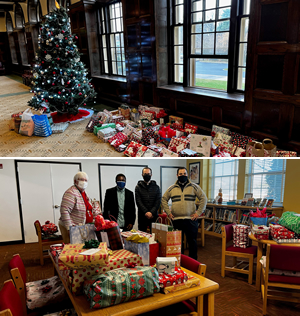 Once again, the St. Mary's community participated in the annual "Gift of the Magi" program. The Peace and Justice Committee, who coordinated the program, gathered 84 gifts. An additional 20 gifts were brought by the OLPH Edgewater Youth Group, who came on Saturday to assist with gift wrapping. The gifts were collected to support 84 underprivileged children who attend Mother Seton Academy, operated by the School Sisters of Notre Dame. This is a program that St. Mary's has supported for around 10 years, and this year's drive was a great success.
Pictured: (top) the gifts are wrapped and ready for transport; (bottom) seminarians deliver the gifts to Mother Seton Academy: (left-right) Sr. Margaret [Peggy] Juskelis, SSND (the President of Mother Seton Academy), John Enemuo (Diocese of Wilmington), Michael Boris (Diocese of Scranton), and Javier Fuentes (Archdiocese of Baltimore).
Announced: Fr. Innocent Smith, O.P. at Saint Meinrad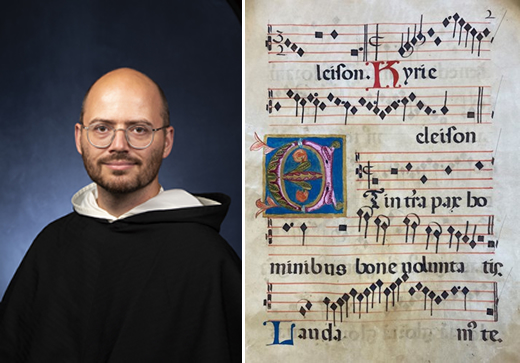 Saint Meinrad Institute of Sacred Music (Saint Meinrad, Indiana) will present an afternoon workshop on "Understanding Liturgical Manuscripts" on Saturday, January 8, 2022. The free event will be held in the Saint Meinrad Archabbey Library from 1:30 to 4:30 p.m. Central Time. It is open to the public.
Among the group of leading scholars who will present: St. Mary's own Associate Professor of Homiletics, Rev. Innocent Smith, O.P.
According to the Institute, presentations will be on the liturgical manuscripts in the Archabbey Library collection, ranging from 11th-century southern Germany to 18th-century Ethiopia. None of the manuscripts has previously been studied, and many are new acquisitions with fascinating histories. The workshop will explore what can be learned from the manuscripts and how to study them.
Though the speakers are among the top in their field, the event is geared toward the general public and is an opportunity to shine a light on the riches of the collection with the scholars most expert at uncovering those riches.