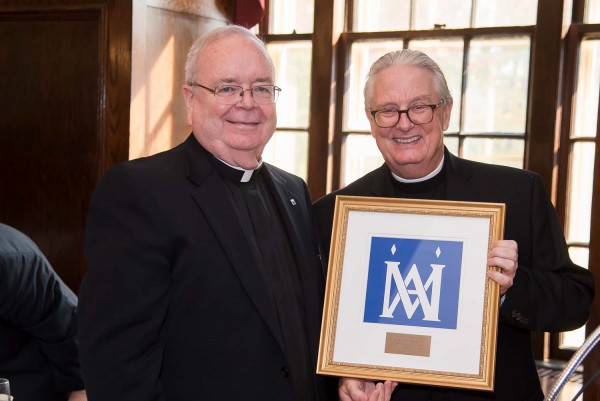 St. Mary's Seminary & University
Alumni Days 2016
Olier Award Presentation
Wednesday, October 19
OLIER DISTINGUISHED ALUMNUS AWARD
The Olier Distinguished Alumnus Award is named for the founder of the Society of Saint Sulpice, Jean-Jacques Olier, who dedicated his life to the education and formation of Catholic priests.
The Olier Distinguished Alumnus Award is awarded annually to an alumnus who, through extraordinary contributions to the Church and community exemplifies the mission of St. Mary's.
This year St. Mary's is conferring the Olier Award on The Very Reverend Thomas R. Ulshafer, former Provincial of the United States Province of the Society of St. Sulpice for outstanding service to the Church and the Society of Sulpice over his long career, and in particular for his recently published biography of Fr. Charles Nagot, first Superior of the Society of St. Sulpice in the United States.
Fr. Ulshafer was born in Laurel, MD in 1944. He graduated from St. Charles College in 1964 and earned an AB in philosophy at St. Mary's, Paca St. in 1966. He is a 1970 graduate of St. Mary's, Roland Park with an STB and Masters of Theology.
He was ordained for the Archdiocese of Washington in 1970 and became an Instructor in moral theology at St. Patrick's, Menlo Park, California from 1970-72.
He earned his Ph.D. In theology and ethics from Princeton Theological Seminary in 1978
He was first elected as a Provincial Consultor in 1978, serving on the Council, in all, for about 30 years, including time as Provincial.
He completed an STL at St. Mary's in 1981and was full-time on the Faculty here from 1978-1992, serving as:
Dean of Students, 1979-80
Vice Rector, 1980-1984
VP for Admin and Finance, 1984-1992
He was Provincial Secretary from 1992-2007, Director of Disscernment and admissions from 1997-2007, and General Treasurer of the Society from 1992-2007. He was a member of the Board of Directors of Charlestown Retirement Community, 1992-2007, and adjunct member of the faculty of St. Mary's from 1992-2006.
He was full-time at St. Mary's and Vice President for Administration, 2006-2007
He was acting provincial, 2007-2008 and elected Provincial Superior from 2008-2014. After a sabbatical in 2015-2016, he is now Adjunct professor of Moral Theology at St. Mary's. He also once again became General Treasurer of the Society this year, and is a member of the Board of Trustees of St. Mary's for the third time.
He has served for many years as ethics consultant for St. Agnes Hospital in Baltimore and St. Francis Hospital in Wilmington, DE.
Special guests of Fr. Ulshafer:
Msgr. Charlie Meisel (alum and VERY senior priest J)
Fr. Gerry Brown,P.S.S.
Fr. Mike Barre P.S.S.(they were classmates)
Ann Lesini
Msgr. Lloyd Aiken
Fr. Andy Aaron (alum of 1996)
Provincial Council of the Society of St. Sulpice
[The book on Nagot is the rationale for the award – everyone in attendance will receive a copy.  Tom also just completed a very generous charitable trust which will come to us on his death – it's in honor of his parents and directed to priest programs in the Center.]