Named after the founder of the Society of Sulpice, the Olier Award is given to alumni who, through extraordinary contribution to the church and community, embody the mission of St. Mary's to form priests after the heart of Christ, the Good Shepherd.
Previous recipients of this award include Cardinal Adam Maida, Msgr. Scotty Macdonald, Msgr. Charles Kelly of Richmond, Msgr. James Cronin of Baltimore and Sulpician fathers Howard Bleichner, Lawrence Terrien, Michael Barré and John Kselman, and Msgr. Owen Campion.
In his address to the plenary session of the congregation of clergy held earlier this month, Pope Francis said:
God does not cease to call some men to follow and serve him in the ordained ministry. However, we also must do our part, through formation, which is the response of man, of the church to god's gift, that gift which god makes through vocations.
Formation is about protecting vocations and having them grow so that they bear mature fruit. They are "a diamond in the rough", to be worked with care, respect of conscience of persons and patience, so that they shine in the midst of the people of God.
Each generation in the church faces certain particular challenges in the formation process. In our time, before men come to a major seminary, they often need time for discernment, for human and spiritual and pastoral growth as well as instruction in the faith, and a knowledge of philosophy.
In addition, the arrival of men from other countries and cultures who wish to serve as priests in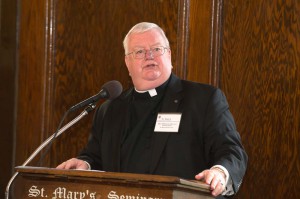 the United States requires special attention with programs not only in the English language but in knowledge of and adjustment to cultural and ecclesial differences.
All of this requires openness, honesty, patience, and time. One of St. Mary's alumni has brought his personal qualities, his ministerial – priestly dedication and the care for formation of which Pope Francis spoke to work in formation as men prepare to go to a theologate.
Father James Mazzone was ordained for the Diocese of Worcester in 1999 after having completed his college education at St. Anselm's College in Manchester, NH and his S.T.B and M.Div. at St. Mary's Seminary and University. After two years in parish work in his diocese, Jim returned to St. Mary's where he spent three years as an instructor in pastoral theology and co-director in the Center for Continuing Formation. During that time he also completed his licentiate in sacred theology.
In 2004 Jim returned to his diocese and became the Director of Vocations and mentor to newly ordained priests. Two years into his ministry, as the Director of Vocations, and in response to the ever-growing Spanish-speaking Catholic demographic in the Diocese of Worcester, in May of 2006, Fr. Jim Mazzone began to make plans for a "House of Studies," primarily for foreign-born, Hispanic seminarians who were open to life-long priestly ministry in the United States.
The House of Studies also would serve as a residence for American, college-level seminarians attending the three catholic colleges within the Diocese of Worcester: Holy Cross College, Assumption College, and Anna Maria.
Among Worcester County's 12 Catholic, private, and state colleges and universities, two institutions offered accredited, international ESLprograms –– Worcester State University, and Clark University. An ideal property was located only minutes from Clark University –– a 46 room rectory of the Holy Name of Jesus parish in Worcester (a French national parish).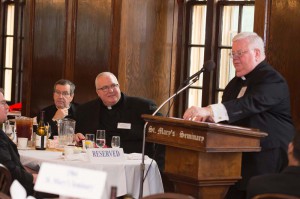 The present pastor, Msgr. Joseph Sirois, was open to the idea, and the proposal was soon met with Bishop McManus' approval. In August of 2006, a donation of $35,000 was received from a benefactor to assist with required renovations and upgrades to the property. Over the following months Fr. Mazzone organized scores of volunteers and coordinated numerous contractors to ready the property.
With the assistance of SMSU alumnus, Fr. Edwin Gomez, interviews for the first class of prospective international seminarians was conducted in the country of Colombia in April of 2007. In August of 2007, the first class of six Colombian seminarians arrived to the U.S. to begin ESL studies at Clark University with residency and formation at the new Holy Name of Jesus House of Studies.
Since the arrival of its first class in 2007, the Holy Name of Jesus House of Studies has also received seminarians from the Archdioceses of New York and Boston, as well as from the Dioceses of Providence, Rhode island; Norwich, Connecticut; and Rochester, New York. To date, seminarians from the countries of Colombia, Haiti, Brazil, Venezuela, El Salvador and Vietnam have resided there.
The ESL and American Culture Program at the Holy Name of Jesus House of Studies and Clark University has been developed into a 2-year comprehensive learning experience which well prepares today's international seminarians for successful American seminary studies and diocesan priestly ministry.
Fr. Mazzone has served as a consultant for many dioceses in the field of immigration, student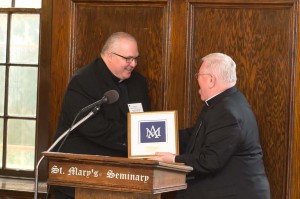 and religious worker visas, permanent residency and U.S. citizenship. Among its more than 30 students and alumni to date, seven have been ordained to the priesthood, and three to the diaconate. For his dedication to the formation of priests , and in particular, for the insight, creativity and energy he has brought to the pre-theology phase of formation for priestly ministry, St. Mary's Seminary and University awards father James Mazzone the Jean Jacques Olier Distinguished Alumnus Medal.
Rev. Thomas R. Hurst, S.S., S.T.L., Ph.D.,
President-Rector and Vice Chancellor
October 16, 2014