Welcome to our New Food Service Provider—SAGE!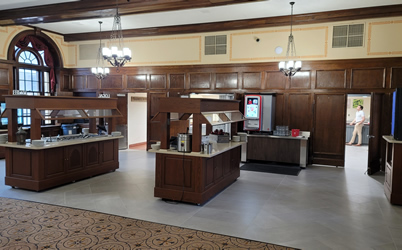 Over the summer St. Mary's has done a complete renovation of the servery with beautiful new flooring, lighting, and technical upgrades. SAGE, our new food service provider, has done a complete revision of the menu to provide new offerings, healthy choices and always-available information. Digital communications have been deployed with the SAGE dining services app for easy access to menus, nutritional information and recipes as well as opportunities to give feedback and view events.
Get started with the "Touch of SAGE" mobile app for both Android and iOS:
Download and install from your respective app store.
Register your profile by completing the forms (when you put in the 21210 zip code, you'll see "St. Mary's Seminary & University" as an option).
Make sure you verify your email when you setup your profile (check your spam/junk folder if you didn't see it come in).
Wait for the start of the academic year for the menus and goodies to begin!
See you in the refectory!