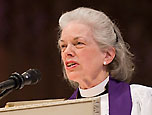 On December 9, 2015 the Ecumenical Institute will host the Reverend Fleming Rutledge, who will speak about her latest book, The Crucifixion: Understanding the Death of Jesus Christ. Rev. Rutledge, an Episcopal priest, is widely recognized in North America and the UK as preacher, lecturer, and teacher of other preachers. Her published sermon collections have received acclaim across denominational lines. Two members of the Ecumenical Institute faculty will respond: The Rev. Dr. Amy Richter, Professor of Biblical Studies and rector of St. Anne's Episcopal Church in Annapolis, and Dr. Michael J. Gorman, Raymond Brown Professor of Biblical Studies and Theology. (Rev. Rutledge studied with Fr. Raymond Brown, S.S.)
The lecture will take place in The Forum on the St. Mary's campus beginning at 7 pm. Doors will open at 6 pm. Rev. Rutledge's books will be available to purchase through Hearts & Minds Books of Dallastown, PA, and a book signing will take place after the lecture.
Seating in The Forum is limited. Thus, while the lecture is free, tickets will be required. Please CLICK HERE to register and obtain tickets.