The final phase of renovations to the living areas of the seminary have been completed, bringing to an end the two-year construction project and an even lengthier period of planning and organization. The project reimagined a 1929 dormitory-style collection of small rooms built for hundreds of seminarians–along with communal bathrooms and showers, and fitness and recreation areas–in need of updating. These were converted into modern, welcoming–yet far from luxurious–residential floors with over 100 small suites (created by combining two former small dormitory rooms) plus lounges, small kitchens, and prayer rooms.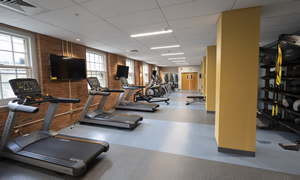 Each suite contains space for a bed, a study area, a reading chair, and a private bath. The fitness room has been completely renovated with modern equipment to promote healthy physical development and care. Scattered among the seminarian rooms are suites for the Sulpician faculty members as well. Sulpician faculty live among the students as a "formational community" or communauté éducatrice in the words of Jean-Jacque Olier, founder of "The Society of the Priests of the Seminary of St. Sulpice" in Paris, France in the 1600s.
The project is much more than a the renovation of a building. It is actually a part of the wider re-commitment and revitalization of the entire process of human formation at the seminary. Human Formation is considered one of the four "pillars," or dimensions, of Roman Catholic priestly formation (along with spiritual, intellectual, and pastoral formation). At St. Mary's, human formation is a cornerstone to priestly formation. "We are forming men to be healthy, happy, holy, and mature priests–the kind of priests the people of God deserve," says Fr. Phillip J. Brown, President-Rector of St. Mary's Seminary & University.
Providing living spaces for adult, mature young men (and older, as well) is a key aspect to this formational goal.
The last of the renovated rooms was blessed on Monday, August 30. A Mass of Gratitude and reception for the contractors and companies involved in the renovation was held on September 10 (picture below).