February 25, 2018
Dear all,
We have safely made it back to St. Mary's Seminary and have begun classes again. We return to the seminary filled with hope and renewed by the people we encountered in Guatemala.
After my last post, we learned about the people of Guatemala, the coffee farming/making process, their reforestation work, and the daily life of Guatemalan men and woman. We also worked hard on some "block houses" in a rural area of Guatemala. Some of the group worked on building stoves in the homes of some Guatemalan people in another part of the town.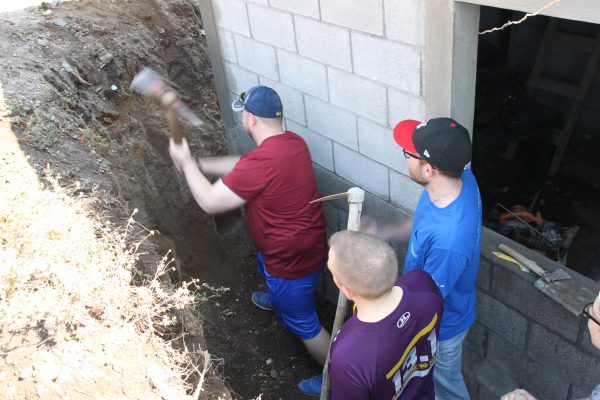 We learned quickly that building these homes was not easy but it gave new meaning to the words in the celebration of the Eucharist when the priest says: "Blessed are you, Lord, God of all creation. Through your goodness we have this bread to offer, which earth has given and human hands have made. It will become for us the bread of life."
The commitment of the Guatemalan people working with their hands brought this to life.
During our work, as we served alongside one another and the Guatemalan people, a deep sense of community, hospitality, and relationship, a deeper sense of life emerged, an encounter with Christ. Through God's goodness and the work of human hands, our hands and the hands of others, we encountered Christ this past week.
Thank you for your prayers and support. We are grateful you have journeyed with us.
In the hope & peace of Christ discovered more beautifully in Guatemala,
Matt Himes
Peace & Justice Chair
Seminarian | 3T | Archdiocese of Baltimore
********************************************************************************
Hello all,
Today, February 21, is our 4th full day in Guatemala! We cannot believe the time we have spent on our mission.
So far, we visited Santiago Atitlan where Blessed Fr. Stanley Rother ministered to the people and died for his people. We celebrated mass in the room where he was martyred and we were able to pray before his heart, buried in the church.
We have also had a tour of all of the work of the mission (Health clinic, School, women's center), sorted coffee beans, worked at construction sites (of peoples' homes), and went on a beautiful hike.
The people are beautiful in Guatemala. We have had many beautiful interactions with the people and have been moved by the simplicity, perseverance, hope, and faith of the people.
The work of the mission was established by Fr. Greg Shaffer, a diocesan priest sent on mission. Both he, Fr. John Goggin (who celebrating 50 years at the mission and is currently here with us), and Fr. Stanley Rother serve as incredible examples of the love of Christ and the true expression of priesthood.
This afternoon, as I write this, we are preparing to journey to learn about the coffee making process (coffee farming and exportation is a huge source of economy in San Lucas, Toliman), and then we will learn about reforestation efforts.
Please pray for us as we continue to be formed by beautiful people, one another, and ultimately Jesus, through our experiences and journey in Guatemala.
May God bless you,
Matt Himes
Peace & Justice Chair
Archdiocese of Baltimore | 3T
**************************************************************************
Saturday, February 17
During Winter Break (February 17 – February 24), a group of seminarians and one faculty member will be journeying to San Lucas Toliman, Guatemala for a Mission Trip. We will be serving the community through San Lucas Mission. While there, we will work on various projects such as building stoves, building homes, coffee bean farming, etc. Most importantly we will strive to be present to all those whom we encounter. We also look forward to celebrating mass at and visit the site of martyrdom of newly beatified Blessed Fr. Stanley Rother.
"In 1963, Fr. Greg Schaffer from the diocese of New Ulm, MN came to San Lucas Toliman and began work as a parish priest. Responding to the expressed felt needs of the community he realized that his work as a priest would be broader than he had imagined. He soon started programs in education, healthcare, construction, coffee as well as a visitor's program inviting groups from the United States to walk along side the people and culture of San Lucas. Fr. Greg died in 2012 and the Friends of San Lucas was born to carry on his legacy of working with the people of San Lucas to alleviate the process of poverty." For more information about San Lucas Mission, please check out their website here: https://www.sanlucasmission.org.
I ask that you please consider praying for us this week as we prepare to go on the mission and next week while we are there. Please pray especially that we may meet the needs of the Guatemalan people and that we may be vessels of the love of God, radiating Christ, and truly encountering all who we meet.
Those going on the mission trip:
John Bilenki, Archdiocese of Baltimore, MD, Pre-T
Nate Brooks, Diocese of Syracuse, NY, 3T
Jose Carvajal, Diocese of Worcester, MA, 1T
Fr. Scott Detisch, Diocese of Erie, Systematic Theology, Faculty Member
Brandon Feikles, Diocese of Erie, PA, 1T
Brennan Ferris, Diocese of Wilmington, DE, 1T
Brendan Foley, Diocese of Syracuse, NY, 1T
Matt Himes, Archdiocese of Baltimore, MD, 3T
Kevin Holland, Diocese of Erie, PA, 2T
Dcn. John Streifel, Archdiocese of Baltimore, MD, 4T
Patrick Walsh, Diocese of Richmond, VA, 1T
Please check the website for more updates throughout the week!