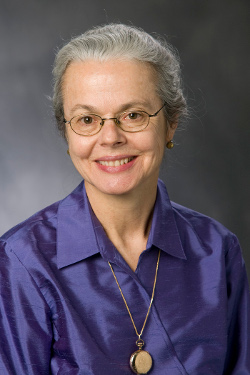 Noted Old Testament scholar Dr. Ellen Davis will lecture at St. Mary's Ecumenical Institute on Friday, October 7, at 7 p.m. Her topic is "Envisioning Wholeness: Connecting Scripture and Health in Africa and Baltimore," with co-respondents Rev. Darriel Harris and Dr. Dan Hale.
The lecture marks the return of CONNECT: Faith, Health & Medicine, the Ecumenical Institute's graduate certificate in faith and health running throughout the 2016-17 academic year.
Ecumenical Institute Dean Dr. Brent Laytham selected Dr. Davis for the lecture because of her superb work interpreting Scripture from the perspective of wholeness. That work includes her scholarly tour de force, Scripture, Culture, and Agriculture: An Agrarian Reading of the Bible (Cambridge, 2009). It also includes her dozen years working in South Sudan to develop theological education, community health, and sustainable agriculture.
In an editorial, Davis wrote, "As we have seen in South Sudan, whenever the church engages in health care practices with a scripturally informed imagination, lives are transformed." In that same piece, Davis recounted how the Rev. Darriel Harris worked for more than a year in South Sudan developing and implementing a Bible-based curriculum called Community Health Education Program. Now based in Baltimore at Johns Hopkins' Center for a Livable Future, Rev. Harris will respond to Davis' lecture by recounting some of the challenges involved in connecting Scripture and health in Africa. Then Dr. Dan Hale, founder and Director of the Healthy Community Partnership run by Johns Hopkins Bayview, will reflect on ways that those same challenges take shape in Baltimore. The conclusion of the presentation will include thirty minutes for questions and answers with the presenters.
The lecture is free and open to the public. St. Bede's Books will be on hand to retail Dr. Davis' books, including the brand new text Preaching the Luminous Word. Call 410-864-4202 for further information.