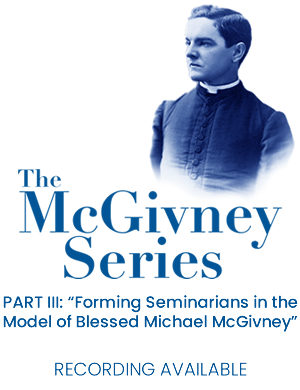 St. Mary's Seminary & University Hosts Part III of "The McGivney Series" in Honor of Blessed Fr. Michael J. McGivney, Class of 1877
[Recording below]
On Tuesday, August 17, 2021, from 7:00-8:00 PM EDT, St. Mary's, the first Roman Catholic seminary in the United States, presented Part III of the virtual discussion series created in honor of Blessed Michael J. McGivney, Class of 1877, and founder of the Knights of Columbus.
This third segment of "The McGivney Series" addressed the question: "what should seminaries be doing today to develop priests in the model of Blessed Michael McGivney?" The panelists for this presentation were:
His Eminence Cardinal Edwin F. O'Brien, Former Grand Master of the Equestrian Order of the Holy Sepulcher of Jerusalem, former Rector of the North American College in Rome and St. Joseph's Seminary & College (Dunwoodie) in New York, and Archbishop Emeritus of Baltimore.
Mr. Michael Schultz, 2nd Year Seminarian of the Archdiocese of Louisville and Grand Knight of the Blessed Michael McGivney Council of the Knights of Columbus at St. Mary's.
Rev. Phillip J. Brown, P.S.S., President-Rector of St. Mary's Seminary & University (Host/Moderator).
We look to those the Church calls "venerable," "blessed," or "saint" as models. Their virtues, actions, and dispositions provide guideposts for measuring our lives and examples to strive for. Blessed Michael McGivney is no different. His life and ministry as a priest, particularly as an American priest formed in our own seminary, provides further opportunities for reflection. His priestly witness reveals a life that many priests can, and should, model their own after. Therefore, it is entirely appropriate to ask our thematic question: "what should seminaries be doing today to develop priests in the model of Fr. McGivney?" We will approach this question by way of two prior inquiries:
What are the "qualities" of Blessed Michael McGivney exhibited in his priesthood?
How can today's priests (particularly the newly ordained just out of seminary) embody these qualities in their own ministry in the twenty-first century church?
Finally, what should we be doing in seminaries to develop these kind of priests: priests in the "model" of Michael McGivney?
...