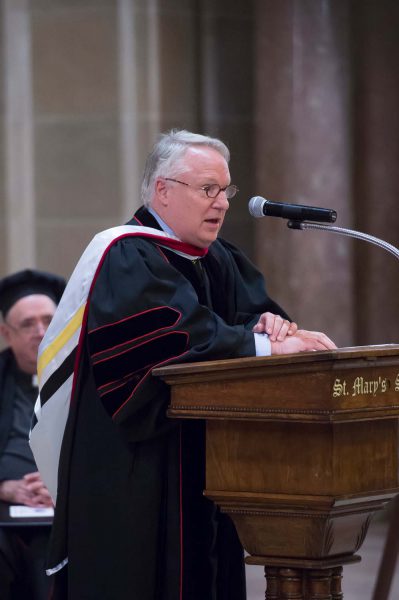 On Thursday, May 11th, St. Mary's Seminary & University conferred an honorary Doctor of Divinity degree on the Rev. Dr. Christopher M. Leighton, a leader of interreligious engagement for over 30 years in Baltimore. Dr. Leighton, the founding Executive Director of the Institute for Islamic, Christian, and Jewish Studies, gave the commencement address. Archbishop William Lori, Archbishop of Baltimore and Chancellor of the University, presided over the ceremonies where 13 seminarians received both Ecclesiastical and Civil degrees and 11 graduates of The Ecumenical Institute of Theology received either the Masters of Arts in Theology or the Master of Arts in Church Ministries.
Dr. Leighton's commencement address compared a pivotal moment in Moses's life to graduation. Moses went up the mountain to receive the Ten Commandments, only to come back down and drop them when faced with rampant idol worship. Leighton remarked "You have climbed theological peaks and been bequeathed with an awesome educational gift. Walk boldly and pay attention to where you put your feet. From time to time you may lose your balance and your grip. It happens. Make sure to stop, look down, and accept a helping hand as you retrieve the sacred bits and pieces at your feet. These fragments need to be gathered up, assembled and reassembled, passed on and shared with those who hunger, with those who are desperate for shelter, and with those who yearn for a place to call home."
Color reproductions of class photos of St. Mary's 2017 Commencement may now be ordered online one week after graduation: https://larrycannerphotography.shootproof.com/stmarys2017
...