This page has been created to make available for the first time some of the records that can be found in our Archives. The records featured have been selected for their interest to both genealogists and students of history. All will help to shine light on the stories of the individuals who have comprised the Catholic community in the Archdiocese of Baltimore over its history.
The original records will be made available in digitized format as .pdf documents. Transcriptions and explanatory notes will be prepared to assist those interested in working with the records when possible.
Easter Duty Lists of St. Mary's Historic Seminary Chapel, 1809-1833
The first series of records to be made available are from the Archives of St. Mary's Seminary & University. They are records of the historic seminary chapel (dedicated 1808) located on the original campus of St. Mary's Seminary & University (est. 1791) in what is now the Seton Hill neighborhood of Baltimore. In addition to serving the seminary community, the chapel also operated as a parish for the surrounding neighborhood for much of the nineteenth century, which included a special ministry to members of the city's Haitian refugee community. While the sacramental records for the chapel have been accessible to researchers for a number of years in both microfilm and digitized formats, other surviving records relating to the parish have not. Among these records are the lists that contain the names of individuals who performed their Easter duties at the chapel. (During this period in history, it was the practice for individuals to partake in the sacraments of confession and communion just once a year, usually at Easter. In time, this practice came to be known as performing one's Easter duties.) These lists were created and maintained by Rev. Jean-Marie Tessier (1758-1840), a French-born Sulpician priest who in addition to serving on the faculty at the seminary assisted at the chapel and was in charge of the special ministry to the Haitian refugee community. The lists he created for the years 1809-1833 have survived and have been digitized. In addition to the original lists, a Centralized Name Index List has been created along with the explanatory notes of the transcribers.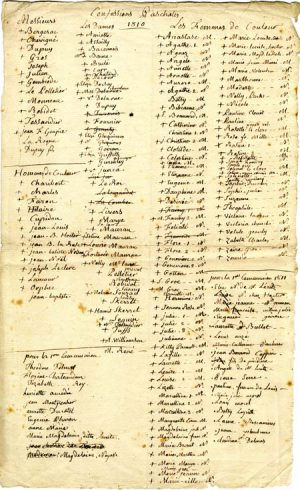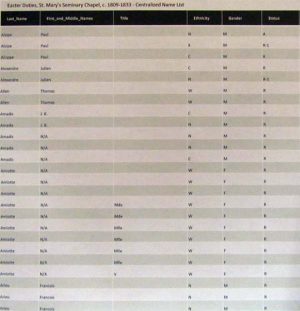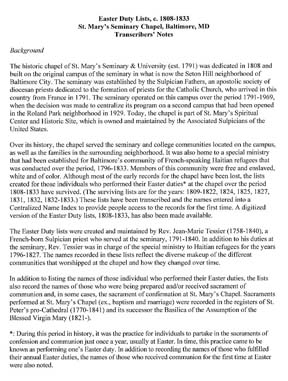 Easter Duty Lists Centralized Name List Explanatory Notes